The Secret Language of Flowers

Whisper sweet nothings without saying a word.

Have you ever heard a sunflower speak? A carnation chatter? A tulip talk?
There may not be such a thing as a talking flower, but they
communicate all the same. In fact, they've been used for centuries by
lovers who wished to send messages to their sweethearts.
In
the Victorian era, lovers exchanged flowers to express risqué or raw
feelings that were not considered proper to talk about in social
settings.
Flowers really are the language of
the love. Their sweet aromas, delicate petals and vibrant colors make
them an easy way to express love and adoration.
While
many flowers carry a traditional message, such as red roses conveying
the message of "I love you," you don't have to follow standard customs
when you present a bouquet to your beloved. Next time you're giving
flowers, consider what they're saying, or be spontaneous and make up
your own meaning by attaching a card or poem.
********************

IRIS :
Fleur-de-lis, Emblem of France, Your Friendship Means so Much to Me, Faith, Hope, Wisdom and Valour, My Compliments

DAFFODIL :
Respect, Regard, Unrequited Love, You're the Only One, The Sun is Always Shining when I'm with You
AZALEA :
Take Care of Yourself for Me, Temperance, Fragile Passion, Chinese Symbol of Womanhood

HYACINTH (YELLOW):
Jealousy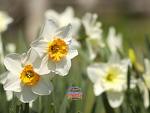 JONQUIL:
Love Me, Affection Returned, Desire, Sympathy, Desire for Affection Returned
ORANGE BLOSSOM :
Innocence, Eternal Love, Marriage and Fruitfulness

PRIMROSE :
I Can't Live Without You

ROSE (BRIDAL) :
Happy Love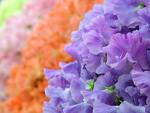 SWEETPEA :
Good-bye, Departure, Blissful Pleasure, Thank You for a Lovely Time


Reds usually convey love, passion and courage.

Pinks are more graceful and gentle. They denote inner confidence or thankfulness.

Yellows inspire happiness, joy and friendship.

Whites tend to signify spiritual love and purity. They also carry a heavenly silence with them.

Peach/oranges ignite desire, enthusiasm and fascination.

Purples show faithfulness or hope. They also can be a sign of enchantment and love at first sight.